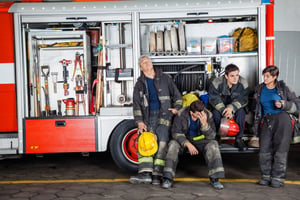 Post-traumatic stress disorder (PTSD) is a serious condition that affects people who have experienced frightening or shocking events. Symptoms include anxiety, depression and intrusive thoughts and memories that continue to affect day-to-day life, wellbeing and peace of mind long after the traumatic event has passed.
Unfortunately, people who put their lives on the line in the service of others often suffer from PTSD. Though first responders are trained to deal with tragedy and trauma, these events inevitably take their toll.
The following statistics from a University of Phoenix survey of first responders speak for themselves:
84 percent have encountered a traumatic incident

85 percent experienced mental health issues

34 percent were formally diagnosed with mental health issues including PTSD, Acute Stress Disorder (ASD) and depression.
While, as noted in a previous blog, the exact statistics do vary, it's clear that a significant number of first responders are struggling with debilitating mental issues caused by trauma.
Where there is compassion, there is hope
Thankfully, first responders are not alone in their struggles. There are many people like Michele Ladd, founder of National Veteran Resources, who are making a difference by raising awareness of the difficulties facing veterans and first responders suffering from PTSD. Ladd is traveling the country in her RV to bring attention to their struggles, ensure they get the help they need and to listen to their stories.
Retired Army 1st Sgt. Seth Kastle is also making a heartfelt difference. After returning from service, Sgt. Kastle brought home what he describes as a 'fire in his chest'. Following years of anger and depression, he channeled his battle with PTSD into a children's book to help his daughter understand her father's disorder. Kastle said: "After I first read the book to my daughter, I remember her saying, 'I'm sorry you have a fire in your chest now, Dad," Kastle said. "She was four at the time. That's something I'm always going to remember."
New laws offer support and compensation to PTSD sufferers
New laws are being put into place to help first responders with PTSD. Under a new bill, Californian firefighters and first responders will now have a better chance of receiving adequate worker's compensation for a PTSD diagnosis. If passed, Senate Bill 542 will 'create a rebuttable presumption that a worker's mental health struggles are an occupational injury, which could qualify them for paid time off to recover.'
Amid growing concerns about suicidal tendencies in Naperville police officers, Northern Illinois University and the Illinois Public Pension Fund Association are launching a series of events hosted by mental health professionals to educate first responders on PTSD signs and symptoms.
In Florida, a bill was passed to define PTSD for firefighters, paramedics and law enforcement, and whether there is associated physical harm. The expansion of these workers' compensation benefits is considered a top priority to help combat the high rates of suicide among first responders. You can read more about this bill here.
Our heroes need our help
The heroes that willingly put their lives on the line to protect us deserve our care and support. Graham Medical recognizes their sacrifice and would like to thank every first responder for their tireless service.
To raise awareness on these and other issues, Graham Medical provides information on the latest industry news, best practices and medical tools. We invite you to subscribe to our blog.