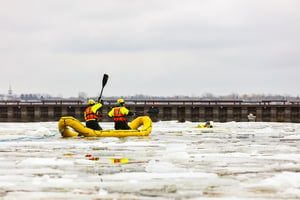 Winter is here, and with it comes new challenges for first responders and other emergency medical services (EMS) professionals. Not only do the risk of road accidents increase over the icy months, first responders also need to take extra measures to prevent hypothermia in patients exposed to cold. Here's what your team should know when treating someone in winter and which EMS medical supplies may make all the difference:
Essential considerations when treating emergency patients in cold environments
Know the risk Being cold and injured is a dangerous combination.




Hypothermia can adversely affect trauma patients far more than exposure victims. According to

this article

in the Journal of Emergency Medical Services (JEMS), even mild hypothermia can have devastating effects in patients with trauma. Because they can be exposed to environmental cold for extended periods during extrication, trauma patients are at risk of profound hypothermia. In

The Cold Hard Facts On Traumatic Shock

, we detail "the lethal triad", also called the triad of death, in trauma patients which consists of acidosis, coagulopathy and hypothermia.
According to the National Highway Traffic Safety Administration, 17% of all car accidents happen in winter. The Federal Highway Administration notes that 70% of US roads are located in regions that receive more than 5 inches of annual snowfall. These regions also house 70% of the US population, so it's no surprise that over 116,800 people get injured in car accidents on snowy or icy roads every year. As you are preparing your EMS personnel for treating/preventing hypothermia in a trauma patient, make sure that they keep this in mind:


Recognize the problem
Hypothermia is diagnosed when someone's core temperature drops below 95°F. Signs of heat loss in patients with injuries can display differently than usual. Things to look out for include: skin with a mottled appearance; a rapid heart rate that eventually begins to slow; rapid respiration that unaccountably begins to slow; and a mental status change marked by confusion and poor judgement. Shivering, a seemingly obvious sign, may not always be present in an injured person — they might only exhibit shivering when their core temperature is well below that of an uninjured shivering person. This makes it especially important to assume hypothermia in trauma patients until it's been definitively ruled out.

What you can do
Hypothermic patients will progressively lose their ability to coagulate blood which can become deadly when combined with hemorrhage. Here are some key interventions and EMS medical supplies that help avoid it taking hold in a patient:


Use warmed IV fluids and oxygen whenever possible
Remove any wet clothing
Apply thermal blankets
Apply polyester, fleece or cotton blankets
Apply Mylar heat-reflective wraps
These interventions all help with the same thing: keeping the patient as dry and warm as possible. Another key intervention is to rule out other possible reasons the patient may be unconscious or in shock (e.g. pre-existing conditions), as hypothermia rarely occurs in isolation from other medical problems.


The medical equipment you need in winter conditions
Working in winter's adverse conditions can make your staff more reliant on their equipment. Luckily, when treating for hypothermia the plan doesn't need to be extremely complicated — simple interventions can have a great effect. For instance, wrapping the patient in a blanket can preserve vital body heat that makes all the difference.
A warming blanket should be durable, water and wind resistant and have excellent heat-retention capabilities. The Mylar Hypothermia EMS Blanket excels at doing this. It protects patients from rain and wind exposure, while reflecting their body heat inward (redirecting approximately 90% of radiant heat). It can be used in conjunction with conventional medical blankets and is effective in limiting the effects of shock after trauma.
The Mylar Hypothermia EMS Blanket is large enough to cover an adult, and each one comes individually wrapped. Supplied in packs of 50, these lightweight, compact single-use EMS blankets are also cost-effective. This makes them indispensable to help you combat hypothermia when out in the field this winter.
Partner with a medical equipment supplier you can trust
In an emergency situation, your medical equipment supplier should never leave you out in the cold. When your staff is on call in winter, it's important to know that they can rely on having quality equipment available at the right time to meet their specific needs. Graham Medical pride themselves on providing solutions that make your job easier and more efficient.
Graham Medical is a leading supplier of Emergency Medical Products, including the Mylar Hypothermia Blanket, Comfort1® Polyester Blanket and Comfort1® Polar Fleece Blanket. Contact us today for a free sample or to learn more about how we can help you.