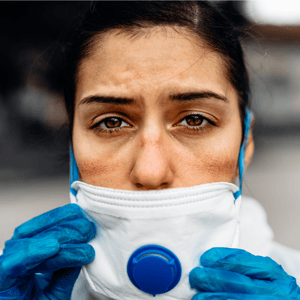 Post-traumatic stress disorder (PTSD) is a common concern for EMS professionals, but the COVID-19 pandemic has placed unique pressures on everyone in the sector. First Responders now have to deal with profound pressure on top of the normal stresses that come with the job. This means that EMS Directors, Fire Chiefs or Deputy Fire Chiefs need to do all they can to protect the mental and physical wellbeing of their staff.
PTSD and the COVID-19 pandemic
We will only know the true effect of the pandemic on the mental health of First Responders once it has abated, but we're already seeing how longer hours, higher stress and more call-outs are impacting them.
Peter Kaufmann, the main investigator for Villanova University's Fitzpatrick College of Nursing's 'COVID-19 Caring About Health for All Study (CHAMPS)' stated that: "This particular situation here with the pandemic is actually one of the more extended periods of stress we've ever seen in a civilian population." He continued, "We may not understand it for a while, and it will have effects on people's lives beyond the immediate."
Emergency First Responders already have to deal with stressful circumstances, and the global pandemic is only adding to the pressure. According to a recent survey from the Conference of Mayors, 92% of US cities do not have an adequate supply of face masks for their First Responders and medical personnel. This fact will only exacerbate the feelings of stress, anxiety, and depression that many First Responders are feeling at this time.
Talking to Fire Engineering, Mark Lamplugh reports that "The nature of our work is stressful and emotionally costly, and the COVID-19 crisis accentuates this. Even in the best of times, we are not always well equipped to process our experiences; under quarantine and social distancing conditions, it's much more difficult. I must confess that I have struggled at times with processing the increased demands COVID-19 has placed on my patient care."
In a survey conducted by EMS1, 35% of First Responders feared running out of supplies, while 24% fear being personally infected by the virus as their primary worry. Combine that with EMS1 suggesting that approximately 30% of America's First Responders are affected by depression and PTSD, and it's clear our frontline heroes need all the support they can get.
So what can Fire Chiefs and other leaders do to help their staff?
Understanding and support in trying times
In our recent article Addressing EMS Staff Concerns During & After The COVID-19 Pandemic, we unpacked how EMS Directors and Fire Chiefs can aid their staff during these stressful times:
Talk to your employees and see if you can help them work through any of their worries.
Encourage staff to use their downtime positively, such as reading a good book, enjoying an uplifting movie or spending quality time with family and loved ones.
Exercise can go a long way towards promoting mental health, while less strenuous activity like controlled breathing and mindfulness exercises can aid mental and physical well being.
Advise staff to cut back on caffeine, alcohol, or other substances that may lead to dependency.
Ensure First Responders always have access to personal protective equipment and single-use disposable supplies to mitigate the risk of cross-contamination and infection.
We will get through this, together
Providing your staff with a strong support system during these unprecedented times will help them cope better and be more resilient to what the future holds. These are trying times, but if we're there for one another and show empathy and compassion, we will eventually see the other side of the COVID-19 pandemic and be the better for it.
To stay up to date with the latest news and insights on First Responder health and safety, subscribe to Graham Medical's blog here.