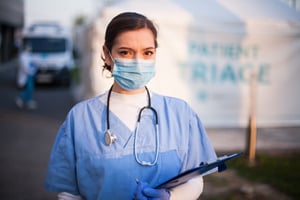 The COVID-19 pandemic has placed significant strain on all sectors, but nowhere more acutely than in healthcare. Day after day, hospital and pre-hospital healthcare professionals don PPE and return to the frontlines of the pandemic — a commitment that takes a mental and physical toll. This, in turn, places pressure on EMS administrators who are responsible for staff wellbeing.
Finding solutions to primary concerns
In addition to caring for patients on the frontline, a first responder's daily stress is compounded by a number of worries. According to a survey by EMS1, 34% of respondents feared running out of supplies while 24% listed being personally infected by the virus as their chief concern.
Below are three primary points of stress for EMS professionals and how managers can help relieve them.
PPE shortage: As cases surge and healthcare workers are putting in long hours to stem the tide, sufficient PPE supplies are a growing concern. According to this Forbes article, professionals in hard-hit areas have had to resort to desperate measures to protect themselves as PPE dwindles. Thankfully, helpful measures are available to assist:
PPE Burn Rate Calculator: The

CDC has introduced a spreadsheet-based model

to calculate the average consumption rate of PPE. This information can help healthcare facilities estimate how long current PPE supplies will last for and how much equipment needs to be ordered to avoid shortages.
Extending N95 mask usage: The

CDC has published NIOSH guidelines

for extended use and limited reuse of N95 respirators to combat depleted mask supplies during the COVID-19 pandemic.
Being understaffed: Overwhelming stress for a prolonged period of time can lead to understaffing. Moreover, absenteeism places extra pressure on staff as they attempt to pick up the slack. These issues have not gone unnoticed and proactive measures can be adopted to assist with understaffed facilities:
Tracking staff exposure:

An article by EMS World

highlights the Los Angeles County Fire Department's deployment of tracking software. The innovative technology helps healthcare providers determine when it's safe for a team member to return to work after potential exposure.
Look to your community: Many professionals are required to have emergency training to conduct their duties efficiently. For example, American Red Cross lifeguards undergo CPR and First Aid training and could feasibly be brought in to assist with patient care.
Getting infected or infecting others: Emergency first responders are human beings. As such, they are not immune to worrying about getting infected or passing the virus onto others, especially loved ones. According to an article shared by FireRescue1, the following practices can be put in place to mitigate the risk of infection during and after shifts at a Fire Station:
Uniforms should be discouraged from being worn at home.
All personnel to be screened for COVID-19-associated symptoms before starting shifts.
If a member of staff is feeling ill, under no circumstances should they report for duty.
Stringent cleaning and surface disinfection must be adhered to throughout the day, or after each run.
Uniforms and linen should be washed at the station after each shift.
A well-supported staff makes for a resilient workforce
EMS administrators who take an active role in addressing employee concerns are more likely to benefit from a better performing, more resilient workforce. There are a number of ways to promote staff wellbeing during the pandemic such as self-care techniques and prioritizing mental and physical wellbeing in the following ways:
Encourage EMS professionals to make the most of their downtime by reading a good book, watching an uplifting movie and spending quality time with loved ones.
Highlight the stress-relieving benefits of exercise and advise staff to carve out some time for activity. It doesn't always need to be sweat-inducing or strenuous either! Breathing or mindfulness exercises can also help.
Our recent blog post 'Self-Care Tips For Emergency First Responders During COVID-19' offers further tips for senior management to safeguard first responders' health, in both body and mind.
Taking care of staff now can bode well for the future, ensuring that you have a mentally and physically resilient workforce on-hand to provide high-quality care once the pandemic has passed.
There is light at the end of the tunnel
One day life will return to some type of new normal. Until then, it's critical that we focus on helping each other get through the pandemic. The bottom line is that people care — one only has to read these tributes to emergency personnel during the pandemic to see how much.
Graham Medical believes the skills, compassion, and empathy of our medical professionals will see us through this pandemic and into better times.
If you found this article interesting or helpful, please subscribe to our blog.