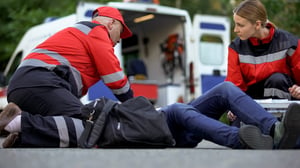 Community paramedicine is a growing healthcare initiative that sees emergency personnel operating in expanded roles to strengthen underserviced areas of healthcare in their communities.
According to EMS1, this evolving model is increasingly adopted as EMS agencies are stretched thin by aging populations, chronic illnesses and soaring healthcare costs. The added strain of the COVID-19 pandemic is exposing gaps in community treatment, necessitating the need for more EMS professionals to go over-and-above their chosen roles.
Community paramedicine at a glance
There are a few measures to be taken before instituting a community paramedicine program, of which EMS1 cites the following as the most important:
Identify your community's health needs: No two communities are the same, so applying what worked in one area won't necessarily be as effective in another. Research and assess your community's healthcare system to pinpoint areas of healthcare that aren't functioning optimally. There are informational resources that can assist you in this — many medical facilities in the country are mandated to publish a community health needs assessment three times a year. These documents serve as great starting points for discussions with healthcare stakeholders in your area to map out a program that will benefit the community. For more information, EMS1 details how a community needs health assessment can help launch a community paramedicine program.
Secure funding: There are no two ways about it: without sufficient funding for your program — regardless of efficacy — it will fail. Luckily, there are a number of financial aids available, such as:
Emergency Triage, Treat and Transport (ET3): The Centers for Medicare & Medicaid Services (CMS) describes this payment model as allowing EMS agencies to collaborate with qualified healthcare providers to employ treatment on-scene and at other destinations. For example: primary care doctors' offices and clinics. For a broader discussion on the topic see this previous article on our website.

Hospital funding: We're seeing an increasing number of medical facilities joining Accountable Care Organizations from which they can receive financial rewards for lowering the cost of healthcare to a particular population. The CMS defines these organizations as "groups of doctors, hospitals and other health care providers who come together voluntarily to give coordinated high quality care to the Medicare patients they serve." By using an EMS agency to reduce costs through a community paramedicine program, hospitals are in a better position to achieve those goals.
Get community buy-in from the outset: Public support is vital to generate operational momentum in the community. Promoting your community paramedicine initiative on social media is an effective way to gain traction. This gives the public a window into the program's developmental steps, building positive sentiment that can help to overcome any potential political obstacles in the future.
Chronic disease and injury management
An effective community paramedicine program can reduce costs by limiting unneeded transport and providing focused, appropriate care. Particularly with chronic disease treatment and injury prevention and management. Community paramedics can perform home checks on patients suffering from chronic ailments such as diabetes or high blood pressure. These general check-ups help lower hospital traffic for non-emergency needs, while alleviating 911 call centers and reducing unnecessary ambulance call outs.
The benefits of implementing a community paramedicine program
The University of British Columbia reports that community paramedicine programs in other countries have helped high-risk areas lower their emergency department admissions by 50 percent. Fewer emergency visits and 911 calls can lower healthcare costs significantly because preventative treatment is less expensive than emergency transport and in-hospital care. Additionally, trained paramedics in community paramedic programs can consult with patients who have been discharged from the hospital, thus lowering the readmission rate in hospitals.
Private healthcare businesses — such as ambulance companies — can benefit from a community paramedicine program too. Some programs allow trained professionals to transport patients to non-emergency facilities such as mental health centers. And more frequent home wellness visits by trained community paramedics means there is an increasing need for ambulatory transport of staff and equipment. By supporting a local community paramedicine program, private companies can alleviate their financial pressure and give back to their community in a tangible and meaningful way.
In times like these, we all need to go above and beyond
COVID-19 is placing an enormous and unprecedented amount of pressure on the healthcare industry, as patients take up beds and staff are stretched to breaking point. But the effects of the global pandemic will be felt long after we've returned to a sense of normalcy. Community paramedicine programs can support the healthcare system during this crisis, and will continue to be of benefit once the pandemic has run its course.
Graham Medical continues to support the EMT personnel who are expanding their roles to include community paramedicine treatments such as in-home support and alternative transport. Our MegaMover® Portable Transport Units are designed to be compact and cost effective, allowing emergency personnel to transport, transfer or rescue patients safely and securely.
If you found the above helpful, subscribe to our blog to receive healthcare updates and information.