A new Medicare payment model for emergency transport is being piloted from January 2020. The Emergency Triage, Treat, and Transport Model (ET3) is a five-year optional payment program designed to curb overutilization of Emergency Departments (ED) and overtreatment of Medicare beneficiaries requiring emergency medical care.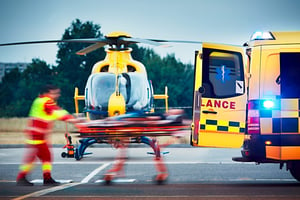 Under the ET3, ambulance providers will now be reimbursed for providing triage on the scene or transporting patients to lower-acuity care settings rather than the currently incentivized option - the emergency room. This alternative payment model was announced in February 2019 by Health and Human Services Secretary, Adam Azar.
How Does ET3 Compare to the Current Payment Model?
Currently, agencies only get reimbursed by Medicare if they transport patients to the hospital emergency room, a critical access hospital, dialysis center or skilled nursing facility. This means emergency response personnel are likely to act accordingly, even if the patient could be effectively treated at the scene or at a lower-acuity setting.
Under ET3, agencies are incentivized to offer a patient-centered service — dispensing treatment appropriate to the level of care needed. As part of the new plan, 911 call centers will screen callers before an ambulance is dispatched and identify candidates for de-escalated methods of care. Assured of compensation, responders will be able to provide context-dependent care, from on-location treatment under the supervision of a qualified healthcare practitioner, to transport to a lower-acuity treatment setting such as a physician's office or urgent care center, or to the ED.
When and Where will the Pilot Program be Trialed?
ET3 is a voluntary payment model with national reach. The pilot program will run for five years and is open to ambulance providers and suppliers, local governments or their designated entities who have authority over 911 dispatch centers. Participant status will be awarded in regional clusters after a vetting process which ensures that participants can achieve the model's goals.
Initially, 40 two-year cooperating agreements will be signed with qualifying participants. The ET3 model will operate two programs: one governing ambulance transportation to alternative treatment destinations, and the other governing treatment on the scene.
Funding will be rolled out in phases with more participants being added. However, only the first set of participants will be able to operate under this payment model for the full five-year cycle.
What are the Biggest Differences for Patients and First Responders?
The ET3 is designed to improve the quality and lower the cost of healthcare. It shifts the current EMS treatment model towards a patient-centered approach, as care providers become financially independent — knowing that they'll be reimbursed for more than just one treatment option.
It allows community paramedicine to grow and eases the pressure on emergency rooms. This means patients in the appropriate care setting benefit from faster response times, as demand is more evenly distributed across treatment centers.
Ultimately, both patients and providers stand to save time and money. Patients accepting lower-acuity care settings may be spared the out-of-pocket expenses of an unnecessary ED visit. In addition, healthcare providers will be spared the costs of overtreatment.
Graham Medical is proud to be able to support the needs of our emergency response agencies. As a leading provider of quality single-use medical and emergency products we invite you to subscribe to our blog series.