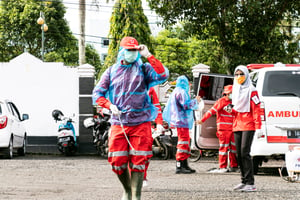 Under normal circumstances, EMS Directors and Administrators carry the responsibility of protecting staff and patients from cross-contamination when treating out-of-hospital patients. However, the COVID-19 pandemic has added another layer of concern and precaution.
Thankfully, equipping ambulances and responders with disposable First Responder supplies ensures they can deliver high-quality care while reducing cross-contamination even in high risk scenarios, such as a global pandemic.
It is critical that EMS Administrators and Directors provide their teams with clean disposable equipment of the right type.
First Responders should not have to worry about unnecessary accidents that compromise performance — such as slippages — or cross-contamination due to low-quality equipment, even during a global pandemic. Their chief concern should be administering emergency care on-scene and en-route to the emergency room. Reliable infection- and accident-prevention supplies help First Responders provide care without distraction.
The right equipment can reduce unnecessary accidents
Lightweight and easy to transport, Graham Medical's Abbi® Absorbent Mat protects First Responders and patients from slips and falls, while decreasing the risk of cross-contamination during emergency treatment. This disposable mat absorbs ten times its weight in liquid, making mess cleaning and prevention quick and efficient.
Clean equipment sets a precedent and boosts morale
Reliable, clean and accessible First Responder supplies offer value beyond the practicalities of emergency care, they have a direct impact on the morale and motivation of emergency professionals. Can you imagine the detrimental effects of placing a patient into the ambulance only to find the supportive pillows are dirty or non-existent? How about discovering that the fitted sheets and equipment covers have been open to the air and its contaminants?
With the versatile FlexAir® Pillow, First Responders can rest assured their patients will have a place to rest their heads. This easy-to-use, cost-effective headrest provides limb support or posture support, with a space-saving design that stores flat and inflates in seconds for immediate use. The pillow is intended to be single-use to mitigate the risk of cross-contamination and infection, making it ideal for use during the COVID-19 pandemic.
For equipment protection and safe patient transport, consider Graham Medical's complete line of single-use stretcher sheets and equipment covers. The fitted design keeps the sheet tight and flat on the stretcher to prevent slippage during patient movement, and protects the mattress and transfer devices from contamination. Our fitted sheets and equipment covers are quick to deploy, lightweight and easy to transport.
(If you'd like more information on how to maintain staff wellbeing, 'Addressing EMS Staff Concerns During & After The COVID-19 Pandemic' provides ways of doing so.)
Quick to deploy and easy to discard
For emergency patients to be moved swiftly and safely, EMS teams need reliable equipment. Transport units must be flexible, easy to deploy and able to maneuver on a variety of terrain, such as stairs or uneven ground. Ideally, they should be strong, durable and economical to use, like the MegaMover® line of transport units.
Designed to protect the MegaMover® line of transport units and other equipment, the 350i Heavy-Duty Barrier Sheet is made of ultra-durable non-woven/poly and acts as a fluid barrier. This versatile barrier sheet can also transport up to 350 lbs and can be used under patients to protect equipment, or over patients to cover them. It's also easy to store, transport and deploy, making it the preferred choice for EMS professionals.
The full spectrum of disposable First Responder supplies
It can be easy to forget that one day the COVID-19 pandemic will be behind us. But until that time, EMS professionals need to remain hyper-vigilant to reduce cross-contamination for the benefit of EMS staff and patients alike.
For more effective ways of keeping First Responders safe during the pandemic, read our recent article called 5 Ways to Protect Your Staff During the COVID-19 Pandemic.
Graham Medical is dedicated to helping EMS Administrators and Directors provide staff with high quality supplies that reduce the chances of cross-contamination and infection, supporting emergency First Responders so they can administer the care patients need.
Explore the full range of our products here.