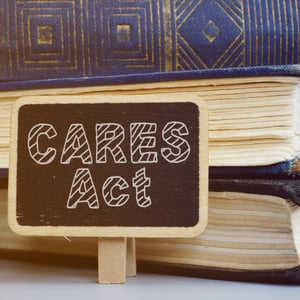 The Coronavirus Aid, Relief, and Economic Security (CARES) Act is a $2 trillion economic relief package introduced to soften the impact of the COVID-19 pandemic. Passed by Congress on March 27, 2020, the CARES Act is intended to provide "fast and direct economic assistance for American workers, families, and small businesses, and preserve jobs for our American industries".
The prolonged nature of the pandemic, however, has seen the majority of federal funding already being allocated (according to this article by EMS1). This leaves emergency service providers on the lookout for alternatives to fund their response and recovery efforts.
Thankfully, there are support structures in place to aid EMS administrators such as yourself:
Additional funding opportunities
As one of the sectors hardest-hit by the COVID-19 pandemic, many EMS providers are actively seeking grants so that they can continue operating at the level required. Thankfully, additional avenues are available to secure financial support, such as:
Assistance to Firefighters Grant (AFG)
Administered by the Federal Emergency Management (FEMA), this fund assists local fire departments with resources and equipment to train emergency personnel.
COVID-19 Crisis Fire Company and Emergency Medical Services Grant Program
Partially funded by Pennsylvania's share of the federal CARES Act money, this program supports fire and EMS companies that have been adversely impacted by the pandemic. The bill was introduced by Senator Camera Bartolotta and Senator Joe Pittman. Senator Bartolotta explains:
"The COVID-19 pandemic has placed an enormous strain on the entire community, including the companies we rely on most to protect our lives during an emergency. The increased needs for cleaning and protective equipment coupled with the loss of revenue from canceled fundraisers has created a severe shortfall that threatens the services and volunteers we rely on most. I am grateful that we are taking this critical step to protect those who protect us."
How to prepare for funding
In the previously referenced EMS1 article, they recommend taking these initial steps to prepare for funding:
Familiarize yourself with your state's funding opportunities to determine which agency will be administering the grant program.
In addition to specific state regulations, many states also require a

SAM.gov

registration. Undertake research and due diligence to comply with your state's registration requirements.
Start collecting local data as soon as possible — many grant applications require the applicant to motivate their need with accurate information on COVID-19 in the area.
Make use of a recently introduced CARES Act deduction
A CARES Act tax deduction allows for charitable gifts to be given to EMS service providers that are public agencies or nonprofits (according to IRS guidelines). According to this Penn Wharton article, taxpayers who do not itemize can minus up to $300 of qualified charitable contributions from their adjusted gross income.
Support is there when you need it
As the pandemic places unprecedented strain on resources and workforces, we know that, as EMS administrators, you have been doing all you can to support the mental and physical wellbeing of your emergency staff.
To do our part in the fight against COVID-19, we have provided the above resources to help you sustain your much-needed response and recovery efforts. Graham Medical values the efforts of each and every healthcare provider, whether they're providing pre-hospital care or managing an entire medical facility. This is why we are dedicated to providing high-quality products that make emergency healthcare professionals' lives easier.
To learn how we protect EMS professionals from the risk of cross-contamination and aid in safe patient transport, view our product catalog page here. If you found this article useful, subscribe to our blog for more news and insights.