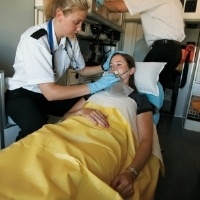 Being in the business of rescuing people, you understand the importance of emotional support. Whether you employ firefighters, EMTs, Paramedics or other EMS providers, the people on the front line have a duty to act quickly and not just physically rescue those in danger but to also mitigate their trauma and comfort them in their dark hour of stress. Blankets are essential to this task.
A warm blanket tucked around a sick and scared patient, even during hot summer nights, has incredible value. EMS blankets offer patients a sense of privacy and protect their bodies in the event they have suffered burns or other injuries. In addition to shielding their physical trauma, EMS blankets also serve as a sort of emotional shield to make the patients feel more comfortable and reduce their anxiety.
These blankets are comforting and they are also practical. Quality medical blankets, like those of the Visiblanket® product line, keep patients warm and visible as they are being triaged in the field and being transported from the site of the incident to the hospital. The following is a quick look at the most popular Visiblanket® products now available to EMS product buyers:
Airlaid/Poly Visiblanket®: These are heavy-duty privacy blankets with a bright yellow polyester outer shell that is reflective and easily seen in dark locations. This is a heavy-duty type of medical blanket of a generous size that offers full coverage for patients and for covering sensitive equipment.
Emergency 2 Ply Tissue/Poly Visiblanket®: These EMS blankets are lightweight and easy to transport and store for on-the-go emergency medical services. They are disposable yet are made of a durable, soft material that both protects and comforts patients.
Single Ply Economy Tissue/Poly Visiblanket®: This single-use emergency blanket is ideal for summer and warmer weather use given its lighter weight. The Single Ply Economy Tissue Poly Blanket is compact and is capable of quick deployment in emergency rescue operations.
Graham Medical

is proud to be able to provide this line of

Visiblanket

® blankets for use by our EMS professionals. For more information about any of the blankets, or about other items in the EMS product line,

contact us today

. Start stocking your emergency medical team with high-quality products that protect and comfort your special patients.