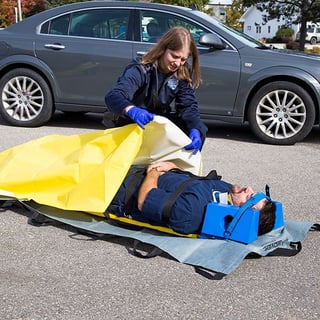 The "trauma triad of death" is well known to EMS professionals. Sometimes referred to as "the lethal triad", it consists of hypothermia, coagulopathy and acidosis occurring in victims who have experienced multiple trauma.
Ryan Gerecht, MD, CMTE addresses the interaction of the components of the lethal triad in this JEMS article and states that, "Left untreated, hypothermia, acidosis and coagulopathy bring about and propagate each other, eventually resulting in a predictable but irreversible progression toward death."
Gerecht further noted the effect of hypothermia on trauma patients and stated that, "In addition, hypothermia in trauma has been associated with a significantly increased mortality compared to patients with the same body temperature from environmental exposure alone."
What this means is that the individual elements of the lethal triad, hypothermia, acidosis and coagulopathy, each influences the development of the other elements which can lead to death. In addition, it appears that trauma victims are more susceptible to the negative effects of hypothermia than non-trauma patients.
This IJCCM article specifically addresses the incidence and effects of hypothermia related to trauma. The writers specifically state that, "Hypothermia is a well-recognized and life threatening consequence of injury."
In an EMS World article, Paul Murphy, MS, MA, EMT-P, echoes Gerecht's comments by saying, "Hypothermia can impact any organ or system. It can also contribute to the development of acidosis due to decreased tissue perfusion, shivering and a decrease in the removal of lactic acid from the body".
Murphy further advises, "The prehospital treatment of hypothermia should be focused on maintaining the patient's core body temperature and preventing any further heat loss."
In this Modern Medicine article, Daria Ruffolo reminds us that, "Heat is transferred throughout tissues and fat, and is released at a rate directly related to the temperature of the environment through radiation, conduction, convection, and evaporation."
With all of this in mind, and in spite of all the high tech equipment currently available in an EMS vehicle, it is obvious that the low tech blanket should receive a high level of attention for application to any and all trauma victims.
Graham Medical is pleased to be able to provide the pre-hospital care providers, and the trauma victims they care for, a broad scope of blankets for EMS applications.
These single-use EMS blankets include the:
Comfort1® Blankets which can be pre-warmed to 150ºF in a blanket warmer:
Comfort1® Polar Fleece Blanket for exceptional warmth, comfort and protection

Comfort1® polyester Quality Blanket in gray and Elite Blanket in white for a less bulky covering that still provides good warmth, comfort and protection
Visiblanket® covers which come in a yellow/white polyester material over a soft liner to provide comfort, warmth, enhanced visibility in low light environments or priority designation for triage situations, including:
poly/Airlaid® construction

Two-ply poly/tissue construction

Single ply poly/tissue construction
Mylar Hypothermia chrome-colored space-age heat reflective cover which provides a cool shade against the sun on hot days, and a wind/rain resistant cover against the elements which also reflects the victims' body heat back to them for cold, rainy or snowy days.
Arthur Hsieh in this article for Bound Tree University sums it up this way, "Controlling a patient's body temperature may be as critical as maintaining perfusion pressure in a critically injured patient."
For more information or to request a free sample, contact us by clicking here or call us at (800) 558-6765.