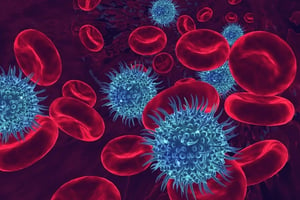 As a first responder, it may seem that the world is becoming an increasingly hostile place. Not only are you and your team faced with an increased incidence of traffic accidents and domestic violence that you respond to, now there are increased occasions in which you could be the victim yourself; situations such as an active shooter event, terrorist chemical agent incident, and even infectious organism contamination.
As a first responder, it is important that you take steps to protect yourself from all sorts of occupational hazards, not the least of which is exposure to infectious diseases. In many cases, it is the unpredictable nature of the emergency scene that increases the level of risk—this is when mistakes can be made. The
Guidelines for Prevention of Transmission of Human Immunodeficiency Virus and Hepatitis B Virus to Health Care and Public Safety Workers
stated the following:
"The unpredictable and emergent nature of exposures encountered by emergency and public-safety workers may make differentiation between hazardous body fluids and those which are not hazardous very difficult and often impossible. For example, poor lighting may limit the worker's ability to detect visible blood in vomitus or feces. Therefore, when emergency medical and public-safety workers encounter body fluids under uncontrolled, emergency circumstances in which differentiation between fluid types is difficult, if not impossible, they should treat all body fluids as potentially hazardous."
Protect Yourself First with PPE for EMS
You must protect yourself from infection in the field, as you may encounter countless diseases, including MRSA, Zika, influenza, C. diff, HIV, and more. It is important to not just wear personal protective equipment (PPE) when treating patients—you also need to deploy products in the field to reduce the risk of cross-contamination and aid in safe patient transport. Single-use (disposable) products, such as sheets and blankets, offer durability and ease-of-use without sacrificing comfort and protection for both the patient and you, the EMS professional.
These products include the following, all of which are disposable:
Fitted Sheets and Equipment Covers
Made to prevent slippage and movement
Several materials available to choose from
Easy to store and transport
Absorbent Mats
Abbi™ Absorbent Mats absorb 10 times their weight in liquid and make cleaning up and preventing messes easy
Flat Sheets
Single-use flat sheets reduce the risk of cross-contamination
Soft, nonwoven material increases comfort
Several options available
Blankets
Disposable—each patient gets a new product
Durable
Can be used in warming cabinets
Bedding Kits
Several kits are available and include multiple products to ensure you have everything you need to deploy bedding quickly
Graham Medical provides emergency responders with disposable, single-use products that provide many benefits:
Single-use, disposable products are fast and easy to use
Lightweight and compact
Offers comfort and protection to patients and professionals
Economical without sacrificing quality
Trusted by EMS professionals
In sum, you recognize your duty as a healthcare professional to prevent the transmission of infection and reduce the risk of cross-contamination for the people you serve. You need to utilize the same level of caution to protect yourself.
Graham Medical is proud to be able to help our first responders protect themselves as well as their patients. For more information, contact us here or call us at (800) 558-6765.