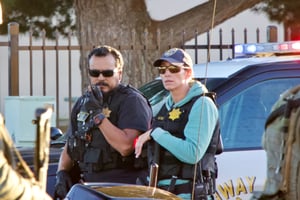 Rescue Task Forces (RTF) were created to respond to the immediate need of first responders for a more coordinated and streamlined response to mass casualty incidents, such as mass shootings. When multiple emergency response units are on a scene at the same time, coordination is key to ensuring both patient and provider health. RTFs provide this coordination along with preplanned protocols to promote optimal outcomes. While RTFs have greatly improved mass casualty response, they are not without some challenges.
There is No "One Way" to Develop a Rescue Task Force
The concept of an RTF was based on the idea that responses teams need clear communication from leader and cannot afford to wait while care protocol is decided on the spot. While clear communication is needed, it must be noted that each jurisdiction will also have different capabilities and limitations, meaning that each RTF will need some customization.
The focus of an RTF is to ensure that law enforcement and EMS know how to integrate and understand their own written policies and response protocols. This understanding will dictate how first responders interface during an incident. Yet despite jurisdictional differences, the basics remain the same: identify those wounded, determine the need for emergency medical care and extract the injured.
Communication and Coordination take Time and Effort
A coordinated response requires multi-organizational training and drills so the alignment of the RTF becomes second nature. It is vital that police, fire and EMS are given realistic opportunities to practice these skills. Failing to train together can reveal challenges that were not considered in the planning phase.
Providers Still Need the Right Tools to Navigate Dangerous Environments
EMS organizations often include volunteers so administrators may encounter issues with purchasing equipment, sizing protective gear to fit EMS staff and storing additional tools and equipment in ambulances. Problems can be encountered with budget, durability, portability, and equipment use.
The basic purpose of a Rescue Task Force is to save lives and reduce the threat of harm to the populace. One way to do that is to eliminate the threat itself; the shooter in an active shooter situation. The other way is to hasten the treatment and transport of victims requiring medical attention.
That's why Graham Medical created the MegaMover ® Tactical and MegaMover ® Disaster Response portable transport units to aid first responders. These portable patient carriers can fit into any EMS pack and weigh 2lbs. or less. And while light, these patient transports are also durable and simple to use. The tactical model can be loaded from either direction, while the disaster response model offers clearly labeled HEAD and FOOT placement with easy to fasten security straps.
This strategically designed equipment was created to be intuitive and simple for first responders, as well as practical for administrators and planners.
A successful Rescue Task Force will incorporate planning, training and the right tools. Administrators must address these needs from a multifactorial approach ensuring that EMS can reach the right place at the right time to extract the wounded, while continuing to promote the best provider safety possible.
Source the best equipment to aid in this task with Graham Medical EMS products.