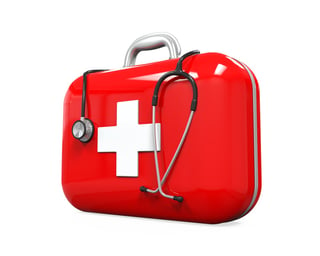 Emergency medical technicians (EMTs) and paramedics have an injury rate three times above the national average. To say there are pain points created during patient transportation is a fun play on words, but it's true. These emergency medical responders are highly prone to painful sprains, strains, bruises, and more.
We need to understand how to address these hazards to help prevent injury and lost work time.
Consequences of First Responder Injuries
The study referenced above found that there were 21,749 work related injuries from 2003-2007 for EMTs and paramedics. Fortunately, all but a very small fraction of these injuries were not lethal. However, of those studied only 17% were back to work in less than a month.
To put that in perspective, that means almost 20,000 workers missed over a month of full duty employment, resulting in lost manpower, sick pay, and employer medical costs. These highly skilled workers are not easy to replace. They require extensive training and experience that may not be readily available in local area labor pools.
How Are EMT Injuries Occurring?
The most common injuries reported by EMT's included overexertion (56%), falls (10%), and transportation-related injuries (9%). These injuries manifested most often in sprains, twists, and back related trauma. A few of these injuries were also reported as patient caused.
What's even more surprising is the rates of these injuries. Busy paramedics can get injured at a rate of 12-19% while on the job. In comparison, the national average is 1.3%. And while it's no shock that more injuries happen in busier service areas, it may be news that emergency medical workers in urban areas are three times more likely to sustain a workplace injury.
Preventing EMT Pain Points
Unfortunately, EMT and paramedic injuries have not lessened since 2007. Over 20,000 injuries were reported on the job in 2014 (the most recent data available from the CDC). This means that we all need to be preventing injuries in any way we can.
One area we can assist with is patient transportation itself. Part of the reason urban areas are more accident prone is the prevalence of stairs, tight corners, and cluttered hallways -- all common in smaller apartments. EMTs have difficulty responding and transporting patients to a waiting ambulance on traditional wheeled gurneys or backboards with limited handle areas.
The MegaMover provides a solution to this problem. This flexible stretcher can help eliminate sprains and strains caused by trip and fall injuries by more easily moving around corners and over uneven terrain. Additionally, this device offers 14 handles -- helping to prevent overexertion and back injuries caused by a limited lifting staff for heavier patients.
Learn more about safe lifting and carrying with ergonomically designed EMS patient transport devices, and help minimize emergency medical injuries in your area. Contact the experts at Graham Medical online.