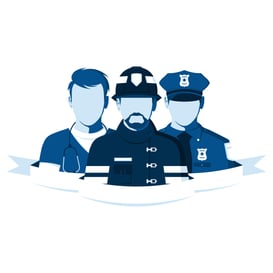 Emergency response often falls into distinct categories that naturally designate a situational lead based on the circumstances. For example, the fire department will typically take the lead when responding to a house fire, the police force generally is placed in command during an assault, and overdoses or mental health emergency responses are often led by the paramedics.
But mass shootings are different.
These situations move at rapid speed, they can often have multiple casualties, and have strong effects on public safety. Active shooter and mass casualty incidents require a true, unified response from all agencies participating.
The Importance of Increased Collaboration
Providing on-scene care at mass shootings can come with great personal risk to the first responders on the scene. Instead of being a rarity, mass casualty incidents have been steadily increasing over the last decade and are now more frequent and widespread. These risks are no longer a long-shot, but an inevitability in first responder support, and as such, it requires training. Gone is the past where fireman trained for fires, police trained for public safety, and emergency medical personnel trained for critical care. Mass casualties now require a change in the role of first responders, requiring tactical knowledge and interdepartmental coordination to ensure patient and provider safety.
Redefining the Traditional Role of EMS
While it is still standard for law enforcement to take a lead role in situations like mass shootings, fire departments and EMS can no longer take a passive, secondary role. It's simply not safe to move a shooting victim onto a stretcher out in the open. First responders must all know how to take cover and protective measures. EMS must have tactical knowledge, understand when a scene is cleared, and practice treatments for critical care when a tactical shooter situation is still undefined.
Cross-Departmental Training
"Preparation through education is less costly than learning through tragedy." —Max Mayfield, director, National Hurricane Center
While active shooter incidents may be the most well-known type of mass casualty, responders should train for situations with additional weapons, including knives and chemical attacks or vehicular homicide. Mike Clumpner, Ph.D., MBA, NRP describes the chaos at one of these scenes by noting that there is an average of one victim every 15 seconds. This rapid rate leaves no time for the duplication of roles, or confusion as to process. Cross-departmental training is required to ensure the most instinctive and smoothest response possible, ensuring that all responders have the necessary skills to minimize casualties and maximize safety.
Unified Command and Leadership
When coordinating responses and training, it's important to ensure a clear chain of command. There should be a known and designated point person coordinating departmental responses, as well as secondary leaders in charge of specialties such as fire and triage. Studies have shown that "Internal resources crossing organizational borders improved and shared the capacity to handle a crisis were optimized." By creating a clear hierarchy and method for collaboration, organizations can streamline the response process so that there is a coordinated response with designated responders, minimizing uncertainty and organizational risk.
In addition to practicing collaborative exercises, the organization needs to prepare teams with specialized tools as they adapt to these evolving roles. The MegaMover® Tactical patient transport mover is an example of one of these tools that can aid first responders under the immense pressure of mass casualty and active shooter incidents. Learn more about the MegaMover® Tactical patient transport unit at Graham Medical.com.