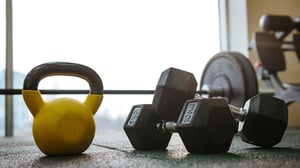 People often look upon first responders as heroic. They rush towards danger when other people might run away. And the physical demands of being a first responder are undeniable. First responders are in charge of patient maneuvering debris, breaking down barriers, and patient transport. There's even a type of "carry" named after the fireman.
But while first responders put their bodies on the line to help provide care and treatment to patients, it's up to administrators and managers to take care of the first responders themselves. Administrative teams can support the physical fitness of first response teams in a variety of ways.
Addressing Fitness First
According to Arcata Fire District Battalion Chief, Sean Campbell, quoted in this Science Daily report, the number one risk to firefighters isn't actually fire - it's stress-related injury and exertion. He states that it's not uncommon for firefighters to walk through flames and survive smoke inhalation only to pass out from a heart attack. Where even one death would be too many, this stress and exertion kills an average of 50 firefighters a year.
To combat this stress, organizations are increasing their focus on fitness. This focus seeks to support both mental and physical fitness. Adding a fitness regime to regular training has shown itself to be a win-win-win scenario. The more fit firefighters and first responders are, the easier it is for them to perform their jobs with less injuries and illness.
Focus Workouts for Heart Health
In this Elitefts article, Ken Whetham states that studies have shown that a firefighter's heart and respiration rate begin to rise simply by donning their safety gear. During a fire, a responder's heart rate may quickly exceed their maximum recommended heart rate (220 bpm - age). Adding heart-friendly workouts can improve not only heart health but also mental health and muscle strength.
This Johns Hopkins report identifies three different types of workouts that can contribute to improved heart health.
Aerobic Workouts
The general guidelines for aerobic workouts such as brisk walking, biking, swimming, etc., are five times per week for at least 30 minutes - although any aerobic exercise is a good start. Aerobics improves circulation while lowering blood pressure and resting heart rate. As an added benefit, aerobic exercise can be done anywhere. Add a simple jog to staff workouts or look into a station treadmill. For those that are interested, consider an aerobics or Zumba class.
Resistance Training
It's easy to visualize the usefulness of resistance or strength training. If a firefighter needs to move debris or carry a victim they will need the muscle strength to do so. Resistance training has an effect on heart health too - it reduces belly fat and improves both good and bad cholesterol. This recent news report describes how the Bedford, Virginia firefighters converted a storage area into a strength training facility, complete with sandbags and sledgehammers for specific skills.
Stretch, Flex, and Balance
Stretch based exercises don't directly affect the heart - but they do affect the ability to do exercises like running and lifting for heart health. As this Harvard Medical School article says, using tools that help promote healthy exercise habits can also help relieve stress on the mind, providing a welcome respite from a heavy workout or adrenaline-filled day. Stretching and balance exercises should be added to regular workout routines.
Graham Medical prides itself on not only providing top-notch tools for first responders including firefighters but also the necessary information and education to keep them healthy and safe. Learn more about how to address the health and wellness of first responders with our free ebook.