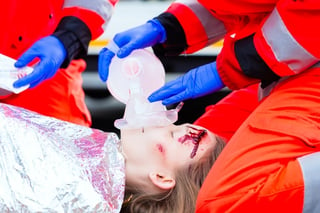 Open wounds can be a common cause of cardinal conditions such as compromised airways, uncontrolled bleeding, changed mental status, and providing cause for suspected abuse.
The best preparation for open wound patient transportation requires proper training in emergency care and instruction in specific treatment protocols as well as access to necessary equipment and supply stock when providing essential interventions. Here are some important things to remember:
Wound Care Protocol
The Joint EMS protocols indicate specific steps for EMS personnel to follow when treating open wounds and preparing patients for transport as needed. Proper procedure indicates that the onsite EMS provider should:
Elevate areas of active bleeding and apply direct pressure. Whenever possible, do not substitute a compression bandage for direct pressure.
Once bleeding is controlled, irrigate the wound, using analgesia if needed. This may not be possible due to uncontrolled bleeding.
Cover wounds with sterile dressings. Check for movement and distal pulses to ensure the wrap is not too tight.
Remove all jewelry on limbs distal to the wound site and secure for the patient.
Continue to monitor the wound throughout transport, maintaining awareness of contraindications and complications that may arise.
Document the procedure and treatment in the patient care report, including patients who refuse transport and wish to seek additional care on their own.
Wound Care Transport Supplies
In order to properly treat patients with open wounds, your EMS providers will need to be prepared with the appropriate supplies in their medical transport vehicles and kits. They will need wound care items such as sterile gauze, wound closures, saline, tourniquets, and dressings. Don't forget personal protective equipment for EMS providers such as eye protection, gloves, and masks.
Your rigs should stock absorbent mats that absorb 10x their weight for mess prevention and quick cleanup. Make sure there are plenty of disposable bedding supplies available such as sheets to cover stretchers and pillows to stabilize and elevate injuries. Be prepared with single-use blankets to prevent shock and protect injuries from the elements.
Ensure that your station is prepared for the treatment and transport of patients with open wounds by stocking all necessary supplies from a knowledgeable EMS medical supplies provider like Graham Medical.