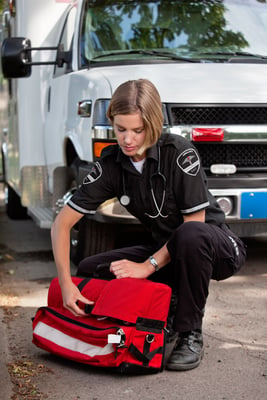 It seems that even within our own national borders we are truly living in perilous times. From the effects of natural disasters such as hurricanes, floods, fires and earthquakes, to domestic violence, mass shootings, a global pandemic, civil unrest and rioting, it would seem that danger is all around us in differing forms. Thankfully, there are people like you and your staff who are dedicated, trained and equipped to intervene and protect the rest of us from these perils - the police, firefighters and emergency medical service personnel.
We recognize that the dedication and training are already in place so we at Graham Medical would like to make sure that our heroes are also properly equipped as well. We want to assure that you, and they, have the proper equipment available to effectively and efficiently transport people out of harm's way to a place of safety for assessment and treatment.
In order to pursue this end, we have developed a number of specialty products specifically designed for use in perilous environments; products that allow non-ambulatory victims of traumatic events to be transported to areas of safety quickly and easily. These specialty portable transport units can now be obtained through your distributor of choice.
MegaMover® Portable Transport Unit Gift Basket Giveaway!
Yes, you read that right.
We at Graham Medical are giving away a whole basket full of MegaMover® Patient Transport Unit products to two lucky recipients each week for the next four weeks.
Included in this basket of products are the following:
MegaMover® Portable Transport Unit
This is the original MegaMover® that has been utilized by emergency medical personnel for many years in many different situations to transport patients over uneven terrain to a waiting ambulance.
MegaMover® Transport Chair
This is a uniquely designed transport device that allows responders to easily transport patients in a seated position. It is particularly helpful for transporting patients up or down staircases.
MegaMover® Tactical
The Tactical was designed by an EMS professional for use in mass shooter situations. It is light and small enough to be carried on the responder. With the patient secured to the unit, the unit can then be attached to the rescuers belt for hands-free removal from a hot or warm zone. This allows the rescuer to drag the victim to an area of safety while freeing his/her hands to still utilize an instrument of self-defense.
MegaMover® Disaster Response
The Disaster Response unit was also designed by an EMS professional. It was designed to transport a victim out of disaster areas with minimal rescuers. A patient (up to 500 pounds) can be carried or dragged by two to eight persons.
In addition to the transport units, we are also including samples of associated products designed to help keep the patient clean and comfortable.
MegaMover® 350i Heavy-Duty Barrier Sheet
The 350i Heavy-Duty Barrier Sheet provides an impervious surface for a victim to lie on and can be used to carry patients up to 350 pounds. It acts as a fluid barrier to prevent cross-contamination and can be used to cover victims to protect them from the elements.
Comfort1® Blanket - Polyester Grey 40" x 80"
This Comfort1® Blanket is extremely comfortable even though it is a single-use item. It can be pre-warmed in a warmer up to 150 degrees.
Hypothermia Blanket 52"x84"
This lightweight chrome Mylar blanket is excellent for retaining body heat in cool weather, keeping the victim dry in damp or rainy conditions and can act as a heat reflector when in the hot sunshine.
To be entered into the drawing, enter our MegaMover® Portable Transport Unit Gift Basket Giveaway now!