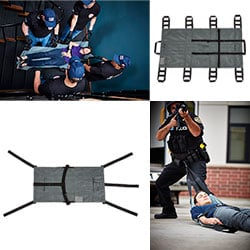 Emergency responders don't get to pick the location of an accident. One call may be in a first-floor ranch home with level sidewalks, while the next is on the side of a 5-lane highway. Another call may involve an active shooter, a fire response, or a fall off a bridge. EMS workers need to be ready for any event, where quick-thinking and adaptation are key to survival.
One thing that is common to fire, flood, wind, and people-driven disasters is the brave efforts of the first responders as they treat and transport patients under these difficult conditions. In order to emphasize EMS health and safety during this time, it is important to give them the right tools to do the job safely and effectively. One essential tool is a portable stretcher for transporting patients. In natural disasters, a flexible, foldable patient transport unit is essential. Emergency preparedness and patient transport go hand-in-hand.
Emergency Fire Evacuations
Paradise, California was a victim to the worst wildfire in that state's history recently and is still in the news today dealing with consequences of this natural disaster through health risks from contaminated water supplies. Eighty-five people died as they were unable to flee the approaching flames in time. During the evacuation, support personnel didn't have time to find wheelchair ramps or flat ground for wheeled gurneys. With people running from a fire, you need fast and portable ways to help assist those who are sick and lack mobility. That's why Graham Medical created the MegaMover® Disaster Response patient transport unit. Able to be carried or dragged safely, this lightweight yet strong device emphasizes speed and portability when you need it most - yet can still carry up to 500lbs.
Tactical Patient Support
The Christchurch shooting in New Zealand reminds us that nowhere is immune to mass violence. A massive shooting scene, the perpetrator currently faces 50 murder charges and 39 charges of attempted murder. When events of this size and magnitude happen, EMS teams are spread thin. Response managers want to help the most people in the fastest manner while putting the least number of staff and civilians at risk. This is why Graham Medical created the Megamover® Tactical. A flexible and portable carrier that can be either dragged, this device is designed to be used by just one or two people at a time. With dozens of victims, every able body counts and the easy patient load with secure straps allows Rescue Force teams to eliminate 6 person transport teams and help more individuals.
Quality Efforts are Dynamic
Our current landscape of unexpected and severe emergencies makes it evident that Emergency Preparedness requires constant quality improvements. The Journal of Emergency Medical Services notes, "Quality efforts are dynamic. A high-quality EMS system should be continuously advancing toward a safer system that improves patient, provider, and population outcomes." Part of that continued quality improvement is improving the equipment, technology, and methodology used in patient transport. Simply settling into past practices is not enough to keep pace.
The MegaMover® patient transport unit by Graham Medical provides safe patient transport during disasters. Focusing on EMS health and safety, the ergonomic design offers multiple handles capable of lifting up to 1,000 lbs. Click here or call us at (800) 558-6765 to learn more about the MegaMover® or to see if you qualify for a free sample.