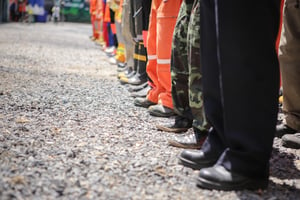 According to this article by the Insurance Information Institute, the number of yearly natural catastrophes in the United States has doubled from 27 to 55 from 2009 to 2018. In 2018 alone, the FBI designated 27 shooting incidents in 16 states as active shooter incidents, resulting in 213 casualties and 85 deaths. These figures may be harrowing, but as this article indicates, they paint a clear picture: natural and man-made disasters are increasing in frequency and intensity.
First responders are on the front lines of every catastrophe, putting their lives on the line to reach and rescue as many victims as possible. But with resources strained throughout the country, many emergency units now have to do more with less and with fewer people to navigate disaster response.
Modern first responders — spread thin and in-decline
Emergency medical professionals such as fire fighters, police officers, EMTs and paramedics are working with diminishing resources, budgetary cuts, morale issues and mental health concerns straining services. What's more, as indicated below, departments are struggling to attract and retain permanent employees and volunteers.
Of the nearly 30,000 fire departments in the U.S., about two-thirds are entirely comprised of volunteers. Since 2015, the number of volunteer firefighters has dropped from 814,850 to 682,600, according to the

National Volunteer Fire Council

.

In the 1970s, approximately

300,000 volunteers

joined Pennsylvania's fire department. This is in stark contrast to today's meager 38,000 volunteers, a number that has caused one state representative to

remark

, "We're in a crisis right now."

Workplace stress

is said to have more of an effect on police first responders than critical incidents.
Bolstering disaster response with limited manpower
A unified response is needed to deal with this escalation. Sharing knowledge and resources between departments can greatly assist disaster response time and efficacy when manpower is low. This applies to command and leadership too. A known point person should be designated to handle interdepartmental communication, with secondary leaders that have specialty training like triage. Establishing a clear hierarchy between teams is an effective way to streamline disaster response time and coordination.
Choose tools that are proven to provide relief
To illustrate how the right tools can alleviate trying circumstances, we'd like to propose a hypothetical, but not unlikely, situation:
After dousing a house fire in the center of town, an exhausted Deputy Fire Chief receives a call to respond to an oil refinery explosion. His team is exhausted and their resources are strained, but they speed towards it resolutely.
Enroute, they receive the news that there are victims who need to be evacuated from the site. Though the team doesn't have the optimum amount of firefighters, the Deputy knows he's got an ace in the hole:
MegaMover® Disaster Response units
When rapid and decisive action needs to be taken, there's no room for ineffective tools. With the input and involvement of experienced first responders, Graham Medical has developed the MegaMover® product line to meet the patient transport needs of the EMS community when in hostile and unpredictable environments.
The MegaMover® Disaster Response Portable Transport Unit is an effective way of moving disaster victims from a dangerous epicentre with fewer personnel. These units also lower the operational costs of the fire safety center without adversely affecting its transport capabilities.
Our MegaMover® products offer:
Ease of use:

Civilians can assist first responders without wasting valuable time waiting for equipment to become available.

Ease of transport:

Our products are lightweight, compact and strong to enable quick loading, unloading and longevity.

Minimal storage space required:

Each rig can accommodate multiple units.

Large and small teams:

Our tactical tools have drag straps, so a single responder can transport a victim.

Drag and carry:

Both the MegaMover® Disaster Response Portable Transport Unit and MegaMover® Tactical Portable Transport Unit are capable of carrying or dragging up to 500 lbs.
Click here to learn more about the MegaMover® products and how they maximize efficiency and ease of use in times of disaster response.