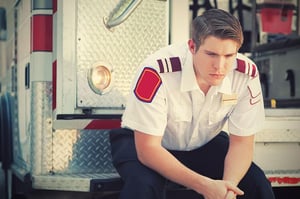 The incidence of stress disorders among first responders is significantly higher than the national average. Our recent blog about EMS post-traumatic stress disorder (PTSD) reveals that 34 percent of EMS personnel were diagnosed as suffering from PTSD at one time or other. This statistic is from a University of Phoenix survey of 2,000 paramedics, firefighters, police officers and nurses. This information supports earlier work from the National Center for PTSD that 33 percent of survivors from mass shooting incidents develop acute stress disorders (ASD).
Causes of ASD and PTSD
The primary causes of ASD or PTSD are involvement in, or exposure to, traumatic incidents that have or could have resulted in death or serious injury. These incidents are characterized by feelings of helplessness, lack of control, horror, and fear. The incidence of ASD and subsequent PTSD is typically higher with man-made events than natural disasters and is also related to the degree of violence. Although ASD may be a precursor to PTSD, not all victims of ASD develop PTSD.
Symptoms of Traumatic Stress Following Incidents of Mass Violence
While there are varied symptoms of traumatic stress, they can be categorized into four distinct groups.
Emotional reactions: These include shock, fear, feelings of helplessness, grief, anger, unhappiness, guilt, and emotional numbness.
Cognitive effects: Victims find it hard to concentrate, experience memory lapses, confusion, feelings of dissociation, loss of self-esteem, and an inability to make decisions.
Physical symptoms: Insomnia, fatigue, exhaustion is common as are hyperarousal, physical pain, illness, and loss of appetite.
Interpersonal relationships: Sufferers withdraw from society, feel alienated, have difficulty with relationships and intimacy, and experience distrust and externalization of blame.
Positive Coping Mechanisms for Dealing with Traumatic Stress
Dealing with traumatic stress will require a coping response on the part of the individual. Some key positive coping mechanisms include:
Talking: Consciously reach out to people for support, especially those who accept you as you are, without criticism.
Physical exercise: Exercise reduces stress, taking your mind off of the problems.
Healthy lifestyle: Eat properly, get rest, and have enough sleep.
Meditation and prayer: Practice meditation, prayer, or mind relaxation.
Relaxation: Participate in relaxing activities such as walking, enjoying nature, art, or music.
Avoid Negative Coping Tactics That Don't Help
Some coping techniques don't help. These include excessive alcohol intake, drug abuse, and dangerous or risky behavior. Other examples include working too hard and using this as an excuse or escape or taking out your anger on others. Rather, you should seek positive help and work through your PTSD.
Seek Professional Help
It's important that victims of PTSD seek help, and taking this step is beneficial. ASD and PTSD are not signs of weakness but are a consequence of dealing with extreme trauma. The statistics above indicate that as many as one in three first responders may experience PTSD, so you're not alone. You may want to consider Cognitive Behavioral Therapy, a focused, short-term intervention, or Animal Assisted Therapy which utilizes dogs and/or horses to help reduce stress and change negative thinking.
Be as open as possible about your condition. Recovery from PTSD is a process where victims may need to take one little step at a time. With proper help, the effects of PTSD can gradually disappear.
We at Graham Medical value your contribution and strive to provide solutions to make first responders more effective. To learn more, subscribe to our blog.