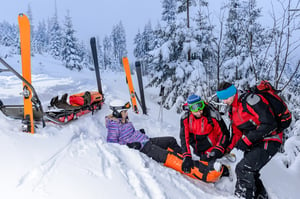 Winter brings a thrilling, brisk feeling with a chill in the air and fresh coatings of snow and ice. Skiers rejoice as untouched white powder begins to coat the slopes and children dream of new snow creations, while daily commuters start to break out the shovel. Winter can mean different things to different people, but to emergency service personnel it will always mean a new round of winter accidents and new challenges in winter emergency care.
Whether caused by shoveling out the driveway or sweeping off the ice for that next skating session, the injuries are common occurrences.
Car Accidents
Winter car accidents can range from major to minor. Over 1,300 people are killed and more than 116,800 people are injured in the vehicle due to winter weather conditions annually. In fact, 24 percent of weather-related vehicle crashes occur on snowy, slushy or icy pavement and 15 percent happen during snowfall or sleet. In addition to regular trauma, these accident victims are especially prone to shock and chill from frigid winter conditions, and keeping them warm is vitally important. Make sure your EMS providers have warm blankets readily available.
Slips, Trips, and Falls
Ice, slush, and wet flooring can cause slips and falls both indoors and outdoors. Minor incidents result in bumps and bruises, but serious accidents can cause bone fractures, head injuries, or spinal injuries. When these injuries occur the victims are often soaked in cold and icy water, furthering the risk of shock and hypothermia. It is important to have tools on hand to treat these water-logged injuries and get patients warm and comfortable as soon as possible.
Winter Sports Injuries
Winter ushers in the season for several sports, from skiing to sledding. However, winter sports can contribute to broken bones, muscle strain, and other injuries. One thing many of these winter sports injuries share is that the location of the injured party is often difficult to access, such as on a ski slope or a field of ice. This difficulty can lengthen the time it takes to transport a patient to medical care, which is why winter protective gear like emergency blankets is important.
Winter-Related Fire Injuries
A warm, crackling fire is a trademark or the winter season. Holiday cooking heats up the house, Christmas trees are filled with lights and decorations, and New Year's fireworks are a common celebration. Unfortunately, all of these are contributing factors to house fires and fire-related injuries/death. "Between 2012-2016, U.S. fire departments responded to an average 170 home fires that started with Christmas trees per year." according to the National Fire Protection Association. EMS must be prepared for both burn and smoke-related injuries, in dry weather and also in heavy rain or snow. Protective coverings are important when transporting patients.
Winter activities can be great fun, and also be a great fail. The exact items that make our lives more enjoyable like open fires and winter sports can also cause unfortunate winter injuries, which is why emergency service personnel must be ready. Be prepared for these wintertime injuries and don't forget to pack your Graham medical blankets!