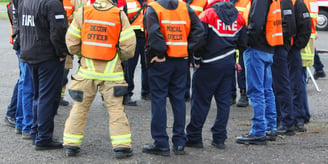 Disaster preparedness is critical to ensure an effective response when natural or human-initiated disasters strike. Depending on the type of incident, agencies involved can include local authorities, state government, and federal agencies. Disasters such as flooding, storm destruction, earthquakes and volcanoes may cause widespread damage, injuries and death. Moreover, mass casualty incidents, such as the 2017 concert shooting in Las Vegas, are just as deadly and the emergency planning aides in providing the appropriate response.


Often the scale of a disaster is such that local authorities don't have sufficient tools and equipment available. Contingency planning should include distribution of essential recovery and rebuilding materials to speed up disaster response.

The Role of Local Government Agencies

Local agencies are the first to respond to any disaster. Each local authority should have an emergency management plan in place which includes activating an emergency operations center (EMC). Initially, local authorities use their own funds to deal with disasters and have the right to waive local bidding requirements to expedite procurement of emergency equipment, services and materials. The EMC keeps the state emergency management agency informed of developments and, if necessary, requests state or federal assistance.

State Agencies and Their Role

Apart from monitoring local disasters, state agencies coordinate response and resources to local authorities that are overwhelmed by the scale of a disaster. If needed, a state governor has the authority to declare a state of emergency, giving the right to release resources to assist local municipalities.

Federal Agencies

The Federal Emergency Management Agency (FEMA) is tasked with providing national resources to states and local authorities that are unable to cope with disasters. Once the President accepts a request for federal assistance from a state, FEMA assigns personnel and resources to an emergency response team, as well as for a disaster field office that coordinates assistance.

Role of Distributors in Supplying Tools and Equipment

Initially, the main focus is on the rescue and treatment of casualties. Thereafter, as teams work to stabilize the situation, the focus gradually moves towards recovery. Irrespective of the scale of the disaster, materials and resources are needed for rescuing victims, mitigating hazards and beginning the process of recovery. Although local authorities hold stocks of emergency equipment, these may be insufficient for incidents of widespread destruction and injury. At this point, local authorities will turn to local and national distributors of essential equipment.

Casualty Evacuation Tools

Incidents with multiple casualties are most difficult to handle, especially if the number of casualties exceeds first responders, as happened in the mass shooting incident in Las Vegas. This incident illustrates the dilemma first responders face when there's a concurrent need to urgently move victims out of harm's way while providing emergency first aid treatment. In such instances, conventional solutions such as gurneys and rigid stretchers may not be suitable, especially as they may require more manpower than is available.

It's in these circumstances that the new MegaMover® Tactical Transport Unit is so useful. The tough MegaMover ®Tactical product needs only one or two responders to drag patients to safety. Their long pull straps can be fastened to the responders' belts so rescuers can use their hands to negotiate difficult terrain or, if necessary, to defend themselves. Another device, the MegaMover® Disaster Response Transport Unit is ideal for larger rescue groups, and its flexible shape keeps patients safely cocooned during transport to a safe area.

It's essential that local authorities are fully prepared for any conceivable disaster. As part of this planning, ensure distributors have contingency plans in hand to supply urgently needed tools and materials. Make certain you have access to effective casualty transport units such as the innovative MegaMover® Tactical. Contact us at Graham Medical to learn more.